Don't miss the latest stories
Share this
Jared Kushner's TIME Cover Has People Wondering If His Waist Has Been Altered
By Izza Sofia, 17 Jan 2020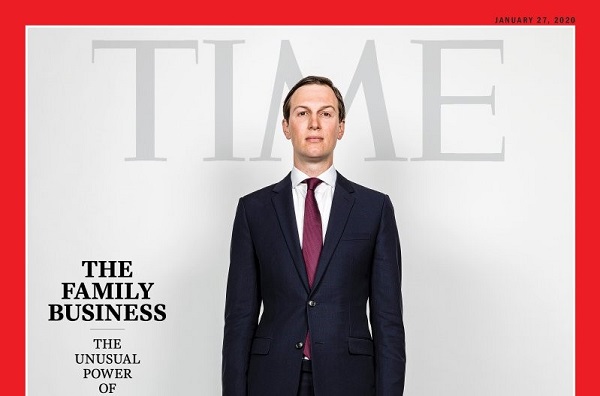 Jared Kushner
makes the cover of
TIME
magazine's latest issue.
Inside, the publication
covers Kushner's influence on Trump's 2020 reelection bid, and discusses his experience as one of Trump's main advisors.
Photographed by Stefan Ruiz,
Kushner looked rather haunting in a navy blue suit and maroon tie. He stood on the cover with his wax-like skin and a deadpan gaze, and his robot-like stance has been making readers uncomfortable.
Many social media users,
too, noticed that his stomach area might have been edited to make his hips more pronounced. His belly area appeared to be thinner, almost as if he was wearing a corset. The discovery has been mocked and turned into a meme.
Others thought
his ensemble looked like something straight out of the closet of his wife, Ivanka Trump. Check out the hilarious reactions below.
TIME's new cover: Inside Jared Kushner's unusual White House role https://t.co/clLt5k8eBk pic.twitter.com/gDAkst9sQL

— TIME (@TIME) January 16, 2020
This is a very odd photo

— Molly Jong-Fast (@MollyJongFast) January 16, 2020
Thank you, I came looking for confirmation of what I was thinking... I also thinks he looks very feminine (wider around the bottom side, thin waist, facial features), wish they'd just stop lying about what many of them are.

— Molly😷Galt ⭐⭐⭐ (@MollyGalt) January 16, 2020
Why is he standing like a marionette? https://t.co/iBoDTnUB0f

— Kevin M. Kruse (@KevinMKruse) January 16, 2020
Original cover: pic.twitter.com/4OQVI2oiWQ

— Mr. Fun Guy (@Mister_Fun_Guy) January 16, 2020
Total Gentleman pic.twitter.com/gG8nNDoJXI

— scott rising (@rising) January 16, 2020
jared looking like a sim pic.twitter.com/GQPNUYOodD

— julia reinstein 🚡 (@juliareinstein) January 16, 2020
Does @JaredKushner 666 wear a Kim Kardashian waist trainer, cause his girlish waist is my 2020 New Years Resolution? Girly Goals! What mens jacket fits like that?

— Canada Connie Resists (@DividedUStand) January 17, 2020
Has @jaredkushner been wearing a Kim Kardashian waist trainer @IvankaTrump ? He has a nice curvy figure! 💃🧘‍♀️🤗😆

— Canada Connie Resists (@DividedUStand) January 17, 2020
Jared Kushner's TIME cover is what happens when you're asked to customise your video game avatar and just select 'default settings' instead. pic.twitter.com/1QqFbRvPnL

— Rob Joyce (@RobJoyce156) January 16, 2020
Jared Kushner is on the cover of TIME, so it's time to ask..is he Slenderman? pic.twitter.com/cI4Eyf3jmT

— tribbles (@thetribblorian) January 17, 2020
Anyone else having a hard time imagining Jared Kushner in the throes of passion.. he gives off a real 'dollar store Ken doll' vibe. pic.twitter.com/FbFx1X4E95

— StayAtHomeBrad (@brad_stay) January 16, 2020
Jared Kushner: just make sure I look skinny ok??
TIME photographer: u mean SLeNdER??? https://t.co/f73RQpgDMs

— Michelle Ciccotelli (@savedbymichelle) January 17, 2020
Jared Kushner on the cover of Time looks like he should be haunting a Victorian mansion.

— Connie Carmichael (@dreamsoup27) January 17, 2020
[via
Mashable
, opening image via
TIME
]
Receive interesting stories like this one in your inbox
Also check out these recent news