Don't miss the latest stories
Share this
White TikTokers Are Getting Dragged By Internet For Fetishizing Black Men
By Izza Sofia, 08 Apr 2020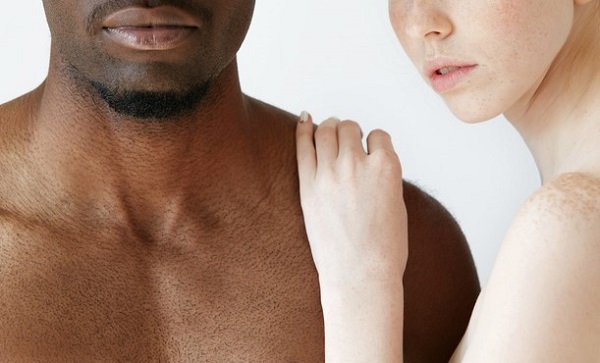 Image via Shutterstock
Cringe-worthy TikTok
videos of white women fetishitizing black men have been circulating online.
The videos involve
white women rapping or making comments about black men's physical attributes, and are accompanied with hashtags like "#mytype" and "#blackmen."
The Daily Dot
found nine videos where black men were objectified.
One of the
videos was made by TikTok user @ms_k_mc, who appeared to be making faces with the text "Men I like." The footage listed four options: "White men," "Asian men," "Mexican men," and "Island men.". She shot down the options, but showed her approval when the last choice, "Black men," was presented. The post racked up over 4,500 likes on the video-sharing platform.
Another user,
@halpal__, unveiled a video with the caption, "Where are my dark chocolate boys."
"Just to clear the air—no,
I don't date white boys," she declared in the clip. "I do date mixed boys, I like y'all little caramels okay. Y'all is fine as s**t. But if you are chocolate, specifically dark chocolate—baby boy," she continued.
Internet users
are calling out the trend of objectifying black men. "Stop this trend of fetishizing black men in TikTok. It's weird and uncomfortable to watch. Just say you like black men and go," one Twitter user weighed in. "The girls on TikTok calling black men fine like they're rare creatures," another Twitter user said.
he put it in a nutshell pic.twitter.com/PoA7gSeUCM

— natb20 (@natb201) April 6, 2020
So dating a black person is suppose to change your innocence??? This yt girl is literally looking at black men like objects...TikTok better get to it n delete this foolishness https://t.co/G4AG826OgZ

— Swu (@Swwuuu) April 7, 2020
the girls on TikTok calling black men fine like they're rare creatures. https://t.co/l18CiHsWtY

— kia. 🦋 (@_KingKeezy__) April 7, 2020
Dear white women,

Stop this trend of fetishizing black men in tiktok. It's weird and uncomfortable to watch. Just say you like black men and go.

— John M. Goode 🌸 (@GoodeisSXE) April 7, 2020
i have BEEN saying since tiktok came out that the weirdest shit on that app is the white girls objectifying black men & the black men that turn around and do the same thing to white girls ... this is WEIRD https://t.co/mAQclboFTE

— Liv 🕊 (@livmanraksa) April 7, 2020
preference and fetishizing is two diff things and some of y'all clearly don't know the diff. this made me all the way uncomfortable.

— Lavineh 😇 (@lavinehspeaks) April 6, 2020
[via
Daily Dot
, opening image via
Shutterstock
]
Receive interesting stories like this one in your inbox
Also check out these recent news