Don't miss the latest stories
Share this
Humorous 'Poster VS Plot' Meme Ridicules How 'Off' Movie Art Can Be
By Mikelle Leow, 09 Apr 2020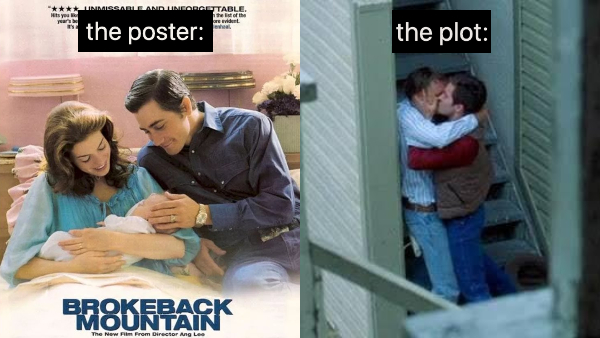 Images by River Road Entertainment via @eyesvvideshut
It appears that
in the world of cinema, the equivalent of judging a book by its cover is to watch a movie solely based on its poster design.
A new meme
that is making its rounds involves film buffs comparing promotional art to the perceived gists of movies, and the differences couldn't be any greater.
The Brokeback Mountain poster,
for instance, depicts a cisgendered family, but everybody now knows the film helped propel LGBTQ+ views to mainstream media.
Knives Out
is a
Cluedo
-esque murder mystery, but it was Chris Evans' sweater that apparently stole the show.
The resulting memes
are reminiscent of the hilarious reviews written by
Amazon
customers lamenting about how the products look nothing like what was advertised.
In the mood
to put on a movie?
HBO
has released
500 hours
of films and shows to help fans cope with self-isolation.
the poster: the plot: pic.twitter.com/6uDldQvw2i

— gina (@eyesvvideshut) April 6, 2020
the poster the plot pic.twitter.com/DHDxz1Ccbo

— javeigh (@javeighyw) April 7, 2020
the poster : the plot: pic.twitter.com/ksjtU0kFra

— elliot || it au 📌 (@cabaretesparza) April 7, 2020
The poster: The plot: pic.twitter.com/1GjiEiQ4cJ

— cyberrjade 🧚🏼‍♂️ (@cyberrjade) April 7, 2020
the poster the plot pic.twitter.com/tQEjrjJmz8

— Claudia (Michael Shannon stan) (@thewaitisogre) April 6, 2020
the poster the plot pic.twitter.com/92siz1HDcr

— chester cheeto (@thegoldencheeto) April 8, 2020
The poster: \ The plot: pic.twitter.com/KV68Gee21I

— PedroM.Cruz (@thepedro8) April 7, 2020
The poster The plot pic.twitter.com/nVICrz3GB1

— ✨Fabulous!✨ (@MsAartByHeart) April 7, 2020
The Poster: The Plot: pic.twitter.com/AyakcsQuxp

— Disco Elvis (@CaptBellerofont) April 7, 2020
the poster: the plot: pic.twitter.com/PgNAbVlWUB

— vermillion (@guirlieee) April 7, 2020
the poster the plot pic.twitter.com/il80OYBhxf

— victoria | lcdp4 spoilers (@riddleish) April 8, 2020
the poster the plot pic.twitter.com/jbWucEcY1C

— chester cheeto (@thegoldencheeto) April 8, 2020
the poster the plot pic.twitter.com/Q6Oxym8kiq

— chester cheeto (@thegoldencheeto) April 8, 2020
[via
Ranker
, images via various sources]
Receive interesting stories like this one in your inbox
Also check out these recent news