Don't miss the latest stories
Share this
Meghan & Harry Get Trolled As New Charity URL Directs To Kanye's 'Gold Digger'
By Izza Sofia, 10 Apr 2020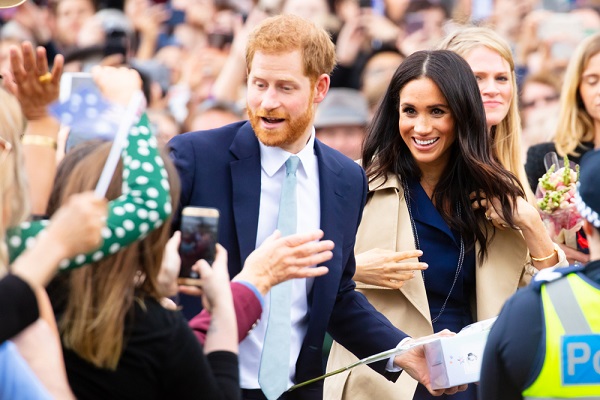 Image via FiledIMAGE / Shutterstock.com
Meghan Markle
and Prince Harry have become the latest target of trolls.
The couple revealed
their plans to launch a new charitable foundation named Archewell earlier this week. They told
The Telegraph
that they have not settled on a date for the launch of the new nonprofit, as they have been focusing on the ongoing coronavirus pandemic.
Markle and Harry
also failed to secure the likely domain name in time, allowing for it to be snapped up by online trolls. A few eagle-eyed social media users wrote that when attempting to visit archewellfoundation.com, they would be diverted to a YouTube video of Kanye West's 2005 hit
Gold Digger
.
According to HotNewHipHop,
the song choice wasn't just a coincidence. Markle had long been accused of marrying into the royal family to gain power or money. Whoever bought the domain name on her behalf had been pretty clear about what they thought of her.
"As of 7 April,
if you enter in archewellfoundation.com in your browser, it actually links to Kanye West's
Gold Digger
video on YouTube," a user noted.
The site redirection
has been removed as of Thursday morning. Those who visit the site now will be greeted with a blank page that states, "server cannot be found."
However, another domain
name, archewellcharity.com, was also compromised and leads visitors to West's song.
"Sources say
the archewellfoundation link is down. Now, if you want to listen to some Kanye, you have to go to archewellcharity.com," a Twitter user wrote.
Other social media
users gave advice to the couple about how they should have purchased the domain names before they had announced the name of the charity. "Regardless of what you think about this, this is exactly why you need a digital-first PR team—traditional PR thinking doesn't work—not buying a US$15 URL immediately is an inexcusable mistake," one Twitter user explained.
Uh oh. As of 7 April, if you enter in https://t.co/mleLA6fYse in your browser, it actually links to Kanye West's - Gold Digger video on YouTube. 😬 #HarryandMeghan #MeghanMarkle #PrinceHarry #Archewell

— The Royal Crown (@TheRoyalCrownUK) April 7, 2020
Archewell https://t.co/cs99yFljvt still leads you to Gold-digger and now the https://t.co/iH0jVFxxYs leads you to the song gaslighter. 😂 what a horrible start to a rebrand.

— sage14 (@sage1411) April 9, 2020
So... sources say the archewellfoundation link is down 🤔🔍 Now, if you want to listen to some Kanye, you have to go to https://t.co/Nf8JzxmZWn 🤷🏻‍♀️😂 I guess this is what happens when someone leaves the gilded cage...

— Baroness Bruck (@BaronessBruck) April 9, 2020
Regardless of what you think about this - this is exactly why you need a digital first PR team - traditional PR thinking doesn't work - not buying a $15 URL immediately is an inexcusable mistake. #PrinceHarry #ArchewellFoundation https://t.co/4t1WvJUqT9

— Ashley Rust (@ashleynrust) April 9, 2020
[via
Independent
, opening image via
FiledIMAGE / Shutterstock.com
]
Receive interesting stories like this one in your inbox
Also check out these recent news